How to reach the Pfalzakademie in Lambrecht:


PfalzAkademie, Franz-Hartmann-Str. 9, 67466 Lambrecht (Pfalz)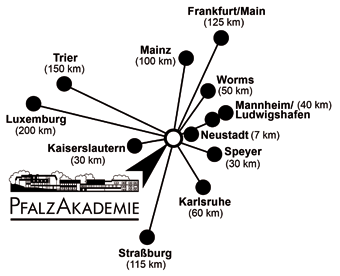 By car:
From the North, South and East:
Autobahn A 65, exit Neustadt/Lambrecht,
B 39 Neustadt/Kaiserslautern.

From West:
Autobahn A 6, exit Enkenbach/Neustadt,
B 48 to Hochspeyer,
then B 39 Kaiserslautern/Neustadt.


By Rail: Take the train to the train station Lambrecht. Then you can walk to the Pfalzakademie in about 15 minutes or take a cab. For train connections please look at Travel planner of the Deutsche Bahn AG.
In Lambrecht the Pfalzakademie is well signposted.